Tips for having Entertainers at your event
What Every Face Painter Wants Party Moms to Know:
You are hosting a party or event. It's going to be the best one yet, complete with bounce house, pony rides and face painting! Here are some tips to make it easier for the face painting to go smoothly.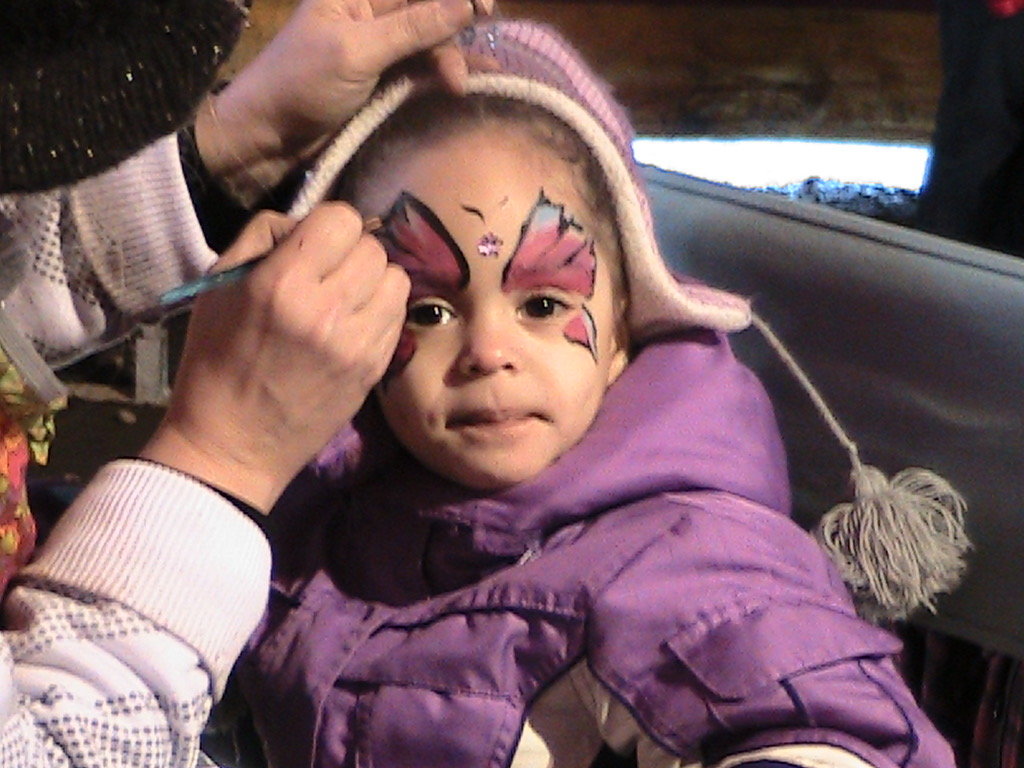 PLAN
Where is the face painting is going to be? Make sure it is on level ground, with some type of cover. Inside works best as it eliminates the weather as a factor. But if outside, put the face painter under a pavilion, roofed patio, or ez-up. Trees do not count. Yes, they provide shade, but they also provide debris falling into the make-up. Also, right next to the cotton candy machine is a no go. All that sugar floating into the make-up is just asking for trouble.
Talk to your face painter before the party. Let them know what other activities will be available to the guests. If it is an outdoor pool party in over 80 degree humid weather, traditional face paint may not be the ideal option. It washes or sweats off. Your face painter will have suggestions for the best service tailored to your event.
BE SAFE
All face paint (as well as all face-painters) are not created equal. Be sure the "paint" they are using is FDA compliant, actually skin safe, and made for that purpose (make-up). Glitter should be body safe and all face painters should be insured.
There is no such thing as FDA approved make-up, only FDA compliant. Hypoallergenic make-up is less likely to cause allergic reactions and are meant to be gentler and safer on skin than other products. Non-toxic means it won't poison you if ingested. Nontoxic acrylic paint is not only NOT MADE FOR SKIN it can damage skin.
VENUE
Is your party being held in a public place? Are you providing entertainment for everyone or just those invited to the party? The face painter does not know who your invited guests are and who is a party crasher. There are many creative ways around this.
ACTIVITIES
Likewise, you want your guests to be able to enjoy all activities you have planned. Do you want activities to have a start and end; Or will guests be able to go to from one activity to the next? Since face painting normally is a one at a time activity, guests will line up and wait. Talk to your face painter about options to avoid the line.
TAKE CARE OF THE HELP
Make your face painter feels comfortable. Offer water, or something to drink. Tell them where the bathroom is, ask if they need anything. Most artists will work straight through and e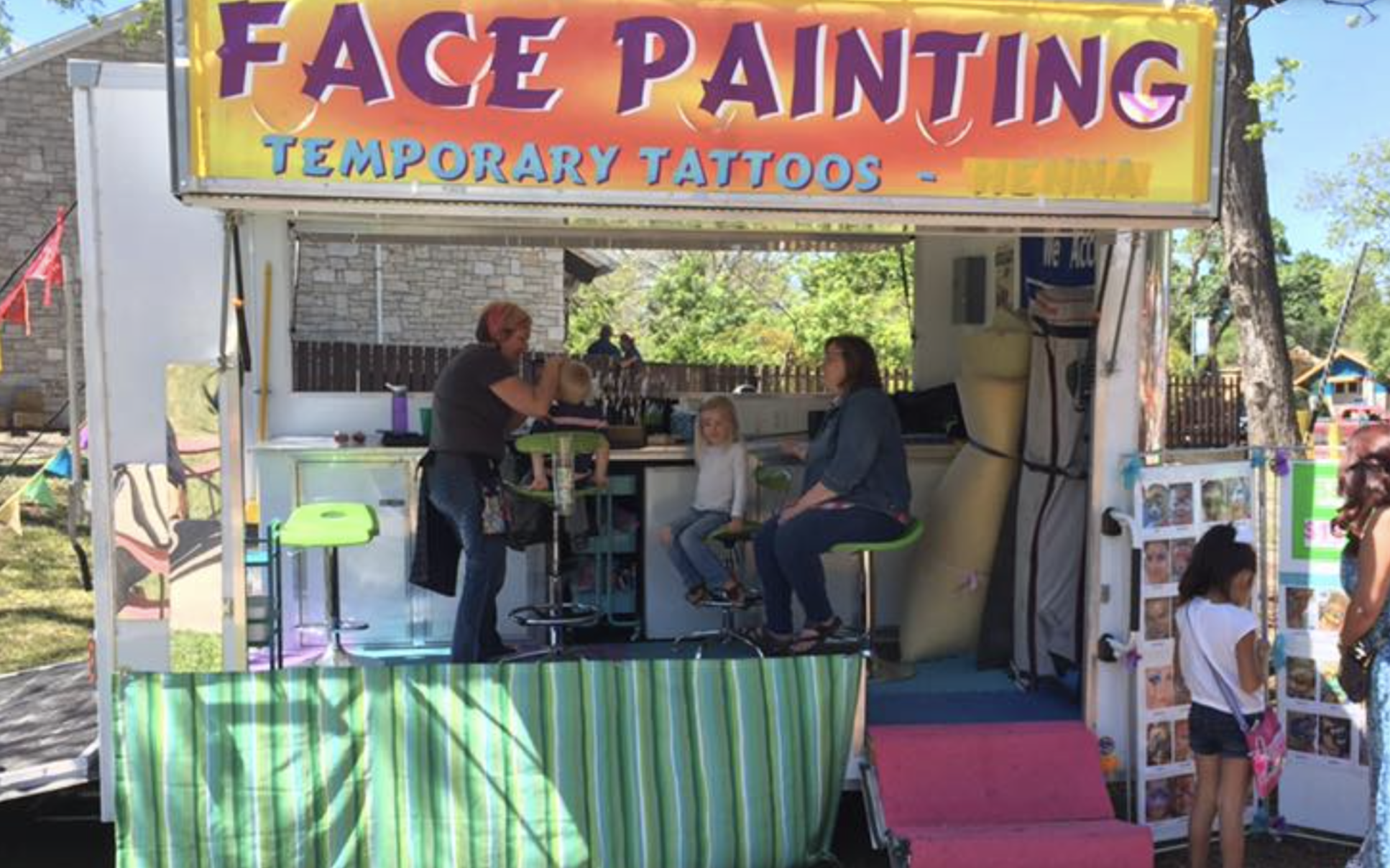 xcept for emergencies, don't take bathroom or eating breaks, but if your event is longer than a just few hours, your entertainers will need to break.
TAKE CARE OF YOUR GUESTS
Do not expect your face painter, or other entertainers for that matter, to be babysitters for your guests. Their attention is on the child in front of them, or the task at hand. Even though face painting is fascinating to watch and may keep your guests' attention riveted on the creation of a masterful monster face; artists cannot also be crowd control.
A rare festival trailer set up. Although some artists will bring the entire set up complete with tent, tables, and chairs; most do not. Traditionally, face painters provide their kit and menu board, with mirrors for you to admire your "new face"!
Face painting is a fabulous addition to any event or party. It is fun, adds color and brings a festive mood to your guests. With just a few preparations, you can ensure that everything runs smoothly and worry free.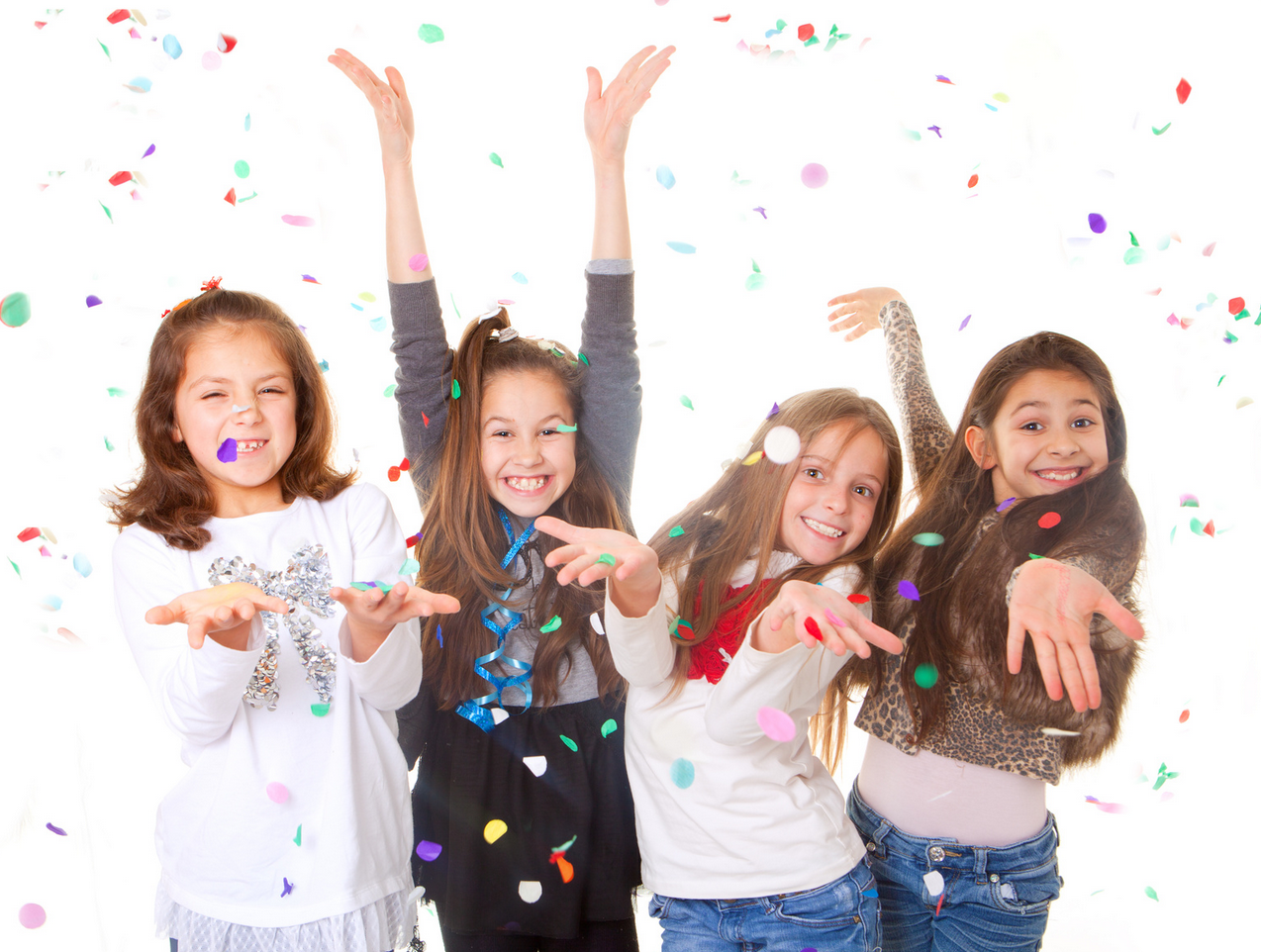 We hope these tips help you begin thinking about adding face paint to your next event. If you need any help getting started or recommendations to make your party one to remember, please don't hesitate to call us here at All for A Face! We are professional face & body artists who specialize in delighting your guests with colorful festive face painting at corporate and private events! Our party experts have been helping people party throughout the Nashville area.
What is your experience?

We want to keep in touch with you! If you want to receive a monthly newsletter geared to party planning tips and event ideas, click the "subscribe" button.