safe face painting today
Safe Face Painting Today:
Many people have events to celebrate but are nervous about hosting or attending an event. Those of us brave enough to do so need to take some precautions. Face Paint is no exception.
I have changed some of my standard practices to meet the challenge of the times.
~ I do not work at gigs with more then 10 people in an indoor space
If a party is being held indoors at a home or other venue, I ask about attendance and the social distancing policies the host will put in place. If it is a large gathering, I will ask to be set up outside weather permitting.
I have a trailer that is all set up as a face paint "spa". If the party host allows, I bring it to the location and guests are painted one person at a time. Masks are required. The trailer is fully supplied with hand sanitizer and disposable masks for guests who may not have one.
For indoor venues, and for those held in a public place, I supply numbered wristbands to the host. This ensures that I am only painting guests to the party and eliminates the traditional lining up or crowd that often gathers around me.
~ I offer air brush face painting
Air brush make up application has been around for a while.
I offer face painting using this technique. It is the most limited contact and assures the safest application of the make-up on the skin. There is no applicator! The only thing that touches your skin is a stencil. Since the make-up is alcohol based, (the kind that is in your shampoo) it drys almost instantly and allows no bacteria or virus to contaminate it.
The stencils are cleaned with Isopropyl alcohol between uses.
For those who prefer traditional face paint applied with a sponge or brush:
~ One use per person with limited contact and no cross contamination
Contamination. Whoa, that word makes you sit up and take notice!
Even before the pandemic, I used one sponge per person to apply the make up. Now I am even more conscious of this. Did you ask why I have sooooo many brushes?
If we are using traditional face paint, it is one sponge and one brush per application of color per person. That means no double dipping in the makeup! Brushes are cleaned, dipped in sanitizer and dried before they are used again. Sponges are not reused at a gig.
~ Designs are simpler and intended to complement a face mask.
At this time, full face designs are not occurring unless it is an individual appointment.
This also means designs are quicker and that means less exposure if someone does have covid and is not aware of it. It protects both the artist and the guests.
~ My workspace is clean
I wash my hands throughout the event to keep germs at bay. Keeping the surfaces clean between guests, as well using hand sanitizer between guests. This does take a little time but it also protects both myself and all my guests.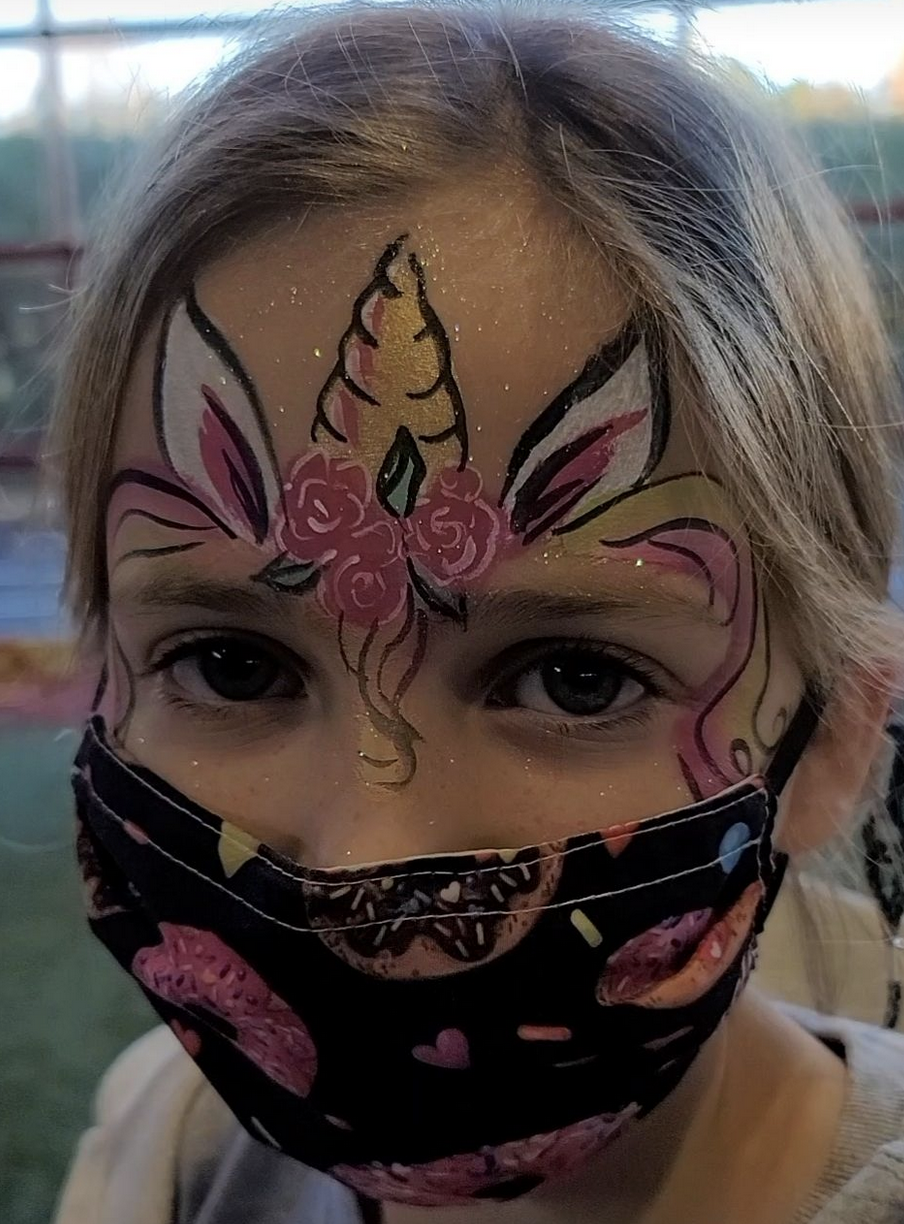 During the pandemic, ALL FOR A FACE provides face painting for groups of less than 10 quests. Masks are required. We feature special designs for the forehead made to accommodate your mask. Limited contact, Air brush or traditional painting. Hosts are responsible to provide social distancing.
BE SAFE
We hope these tips help you begin thinking about adding face paint to your next event. If you need any help getting started or recommendations to make your party one to remember, please don't hesitate to call us here at All for A Face! We are professional face & body artists who specialize in delighting your guests with colorful festive face painting at corporate and private events! Our party experts have been helping people party throughout the Nashville area.
What is your experience?

We want to keep in touch with you! If you want to receive a monthly newsletter geared to party planning tips and event ideas, click the "subscribe" button.