Covid-19 guidelines are being reduced or relaxed, and in some cases eliminated, however it is still around. We need to be mindful and take precautions. This page is being kept as a reference as what we have done and will continue to do. Currently we adhere to state recommendations, but if your event or venue requires a test result or mask being worn please let us know.
Safety First

Face Painting WAS a restricted activity under Tennessee Guidelines during thE COVID19 state of emergency. As the public responds to covid19 (coronavirus) let us assure you that when we are again able to provide face painting we do everything we can to protect your guests from cross contamination.
As guidelines relax we will continue to follow recommended procedures.
If you are concerned about the spread of germs, I will be totally honest: face painting is not a risk-free activity. But then again, once you leave your home, there is very little out there that DOESN'T put you at risk of picking up a germ or two. (Think of the grocery carts you push, the hands you shake, the railings you hold onto climbing stairs, the money you handle, and even, elevator buttons.) But in my world of special events, I do a great deal to protect the health of my party clients and their guests.
I use high quality makeups that contain antibacterial components. These makeup products are DRY to the touch and are activated only with fresh, clean water, which gives them their creamy texture. After the event, lids are left off so that the moisture can evaporate (bacteria cannot survive without water).
To protect you, listed below are the standards we adhere to . . .

Artist will use a clean sponge or applicator per person.

We now use disposable brushes and applicators.

Artist will wash or wipe our hands in between every face we paint.

At smaller events we have a system to avoid creating lines or crowds around the artist.
Only use products safe for face and body painting. Compliant with FDA guidelines and designed for use on the skin.

At least 2 two basins

for water are used: one for activating clean makeup, with water that is clean enough to drink. The second basin contains rinse water for dirty brushes with a sterilizing liquid soap added. These basins are cleaned and water refreshed after every 10-15 guests.

Brushes are cleaned in between guests by spraying with

liquid brush soap

that kills bacteria.

Individual cotton swabs or disposable brushes are used for application of lipstick. A

fter application to the lips, the swab is discarded. No double dipping.

Hands of the artist are clean to start...always washed with soap and water before the event starts. Frequent use of

hand sanitizer or disposable wipes are used

after each guest. Any visible cuts or sores on the hands demand the use of disposable NON-Latex gloves.

Equipment, such as makeup chairs and tables, are clean. Anti-bacterial wipes are used on all surfaces.

During the event, the artist will stop to

refresh water

basins, and clean surfaces...taking a few minutes between guests, in order to protect those that come later.

Makeup is only be applied to clean, dry skin, without damage, rash or wounds. We Do Not paint over freshly healed skin, but instead encourage a hand or arm painting.

Require a

clean and dry

"canvas" to start, the artist will have clean wipes available for guests to use prior to getting decorated.

After each event, non-disposable brushes are cleaned thoroughly with soap and hot water.


Good judgement should always err on the side of caution. If a guest is clearly ill, they should not be painted, but provided with another form of entertainment. Stickers, bling, stamps with designs are all acceptable body art alternatives.
During the state of emergency (covid-19), when we are permitted to face paint:
TO PROTECT OUR ARTISTS, WHEN DISTANCE IS NOT AN OPTION

Artists will wear mask or face shield or a combination of both.

Depending on what stage of reopening we are and recommended guidelines, we may take temperature of guests (no contact thermometer)

We will have a Do Not Cross threshold in accordance with safe distances and ask that those in line space themselves accordingly.

Since some of our artists are older or high risk, those artists may require

guests to wear a mask

no touch contact thermometer before being painted

guests stay 10 feet from artist until it is their turn

painting on arms or other areas (not face)
Airbrush Face-painting and Tattoos are an excellent alternative to traditional face painting. There is no risk of cross contamination. The makeup is cosmetic alcohol based and no applicator actually touches the skin. Stencils used are wiped with fast drying alcohol between applications.
What follows is our pre-covid19 safety protocols. Please note: In 2021 many of our full face designs for young children no longer cover under the nose and mouth. This is for theirprotection.
All For A Face ~ Transforming ~ Magical

A Proud Member of F.A.C.E.
In 2013, Corinne received the distinguished honor of becoming the only CERTIFIED Face painter in Tennessee. She holds a certification from F.A.C.E., the international organization that tests adherence to high quality standards for the industry. Rest easy knowing that you are hiring a CERTIFIED face painter if you want to insure the best in safety and quality.
certified member #504 2013 - 2020

Face Paint is Colorful, Fancy and Fun!
Here are our Safety Rules to keep it that way!

Face Paint Safety
If your child has

allergies or sensitive skin

, the safest course is not to be painted. If you are not sure, ask for a skin patch test.
If your child is nervous, does not want to be painted, cannot sit still or is too young to follow direction, it is best to wait till they are ready.

If you kept your child home from school because they are ill,

Do Not have them painted!
If your child exhibits signs of POSSIBLE ILLNESS, WE CAN NOT PAINT THEM.
Signs may include but are not limited to Cough, Cold Sores, Conjunctivitis, Impetigo, Influenza, Chicken Pox, Flaking Skin, Running Nose, Broken skin, Known allergies to food or makeup. If questionable the Artist may offer to paint an arm, or refuse service entirely.
This is for your safety as well as others!
While generally safe, no cosmetic is perfectly safe. Rare, severe ALLERGIC REACTIONS usually occur within seconds. If your child complains of itching or is uncomfortable: remove the makeup IMMEDIATELY with soap and water.
Artists make every effort to practice safe protocols.
Participating in Face Painting is at one's own risk.
WE RECOMMEND GOOD SKIN CARE. DO NOT WEAR YOUR FACE PAINT FOR PROLONGED PERIOD OF TIME OR OVERNIGHT.
All For a Face believes in the magic of pretending and the happiness it brings!

We paint children over the age of 2 years old, and

only

if they want to be painted.

Face art is our passion and we want your child to enjoy it too.

Our high quality makeup is cosmetic, water soluble theatrical makeup that washes off easily with soap and water.

It is hypoallergenic and safe for sensitive skin, in most cases.

We come prepared to entertain your guests and be worry-free to you.

We are fully insured.

Your satisfaction is of the utmost importance to us, and we are constantly upgrading our service offerings to keep things fresh, safe and fun for our clients.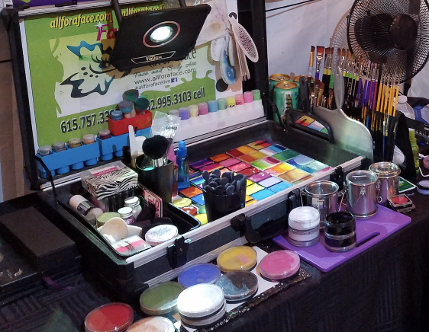 ~ baby showers
~ family reunions
~ festivals
~ fairs

~ Bar/Bat Mitzvahs
~ proms
~ bridal showers
~ teen events

~ church programs
~ private parties
~ corporate events
~ school events
~ fundraisers
~ grand openings
~ reunions

~ children's parties
~ sports events
~ community events
~ and more
CONTACT INFO
732 995~3103 CELL
Text works best
allforaface@gmail.com
Visit our sister site: over 18 recommended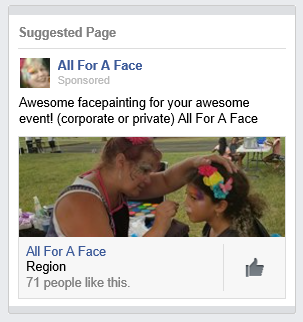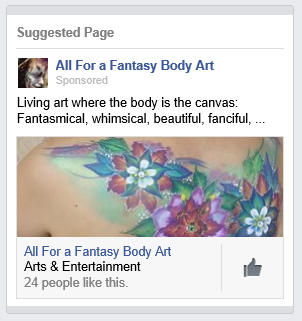 Copyright 2023. All For A Face. All rights reserved. Nashville, TN