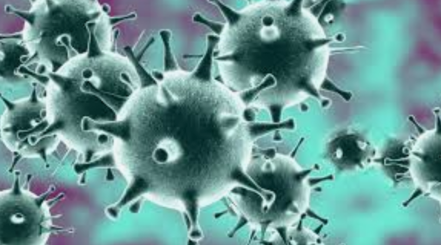 "Putting people into small confined spaces for a special event is not risk free. But we as entertainers must do what we can to lessen the risk of contagious illness. I treat each guest as if they were a member of my own family and protect their health the same way I would my own children."
IN KEEPING WITH TN GUIDELINES & CDC GUIDELINES AND IN AN EFFORT TO PROTECT THE COMMUNITY AND KEEPING WITH SOCIAL DISTANCING, WE ARE ACCEPTING BOOKINGS INDOORS WITH UNDER 10 GUESTS AS ALLOWED. OUTDOOR EVENTS MAY BE LARGER,
*We follow local, state and federal guidelines
Safety First

Face Painting is a restricted activity under Tennessee Guidelines during the current COVID19 state of emergency. As the public responds to covid19 (coronavirus) let us assure you that when we are again able to provide face painting we do everything we can to protect your guests from cross contamination.
If you are concerned about the spread of germs, I will be totally honest: face painting is not a risk-free activity. But then again, once you leave your home, there is very little out there that DOESN'T put you at risk of picking up a germ or two. (Think of the grocery carts you push, the hands you shake, the railings you hold onto climbing stairs, the money you handle, and even, elevator buttons.) But in my world of special events, I do a great deal to protect the health of my party clients and their guests.
I use high quality makeups that contain antibacterial components. These makeup products are DRY to the touch and are activated only with fresh, clean water, which gives them their creamy texture. After the event, lids are left off so that the moisture can evaporate (bacteria cannot survive without water).
To protect you, listed below are the standards we adhere to . . .

Artist will wash or wipe our hands in between every face we paint.

Artist will use a disposable sponge or applicator per person.

We now use disposable brushes and applicators.

At smaller events we have a new system to avoid creating lines or crowds around the artist

Only use products safe for face and body painting. Compliant with FDA guidelines and designed for use on the skin.

At least 2 two basins

for water are used: one for activating clean makeup, with water that is clean enough to drink. The second basin contains rinse water for dirty brushes with a sterilizing liquid soap added. These basins are cleaned and water refreshed after every 10-15 guests.

Brushes are cleaned in between guests by spraying with

liquid brush soap

that kills bacteria.

Individual cotton swabs or disposable brushes are used for application of lipstick. A

fter application to the lips, the swab is discarded. No double dipping.

Hands of the artist are clean to start...always washed with soap and water before the event starts. Frequent use of

hand sanitizer or disposable wipes are used

after each guest. Any visible cuts or sores on the hands demand the use of disposable NON-Latex gloves.

Equipment, such as makeup chairs and tables, are clean. Anti-bacterial wipes are used on all surfaces.

During the event, the artist will stop to

refresh water

basins, and clean surfaces...taking a few minutes between guests, in order to protect those that come later.

Makeup is only be applied to clean, dry skin, without damage, rash or wounds. We Do Not paint over freshly healed skin, but instead encourage a hand or arm painting.

Require a

clean and dry

"canvas" to start, the artist will have clean wipes available for guests to use prior to getting decorated.

After each event, non-disposable brushes are cleaned thoroughly with soap and hot water.


Good judgement should always err on the side of caution. If a guest is clearly ill, they should not be painted, but provided with another form of entertainment. Stickers, bling, stamps with designs are all acceptable body art alternatives.

TO PROTECT OUR ARTISTS, WHEN DISTANCE IS NOT AN OPTION

Artists will wear mask or face shield or a combination of both.

Depending on what stage of reopening we are and recommended guidelines, we may take temperature of guests (no contact thermometer)

We will have a Do Not Cross threshold in accordance with safe distances and ask that those in line space themselves accordingly.

Since some of our artists are older or high risk, those artists may require

guests to wear a mask

no touch contact thermometer before being painted

guests stay 10 feet from artist until it is their turn

painting on arms or other areas (not face)
Airbrush Face-painting and Tattoos are an excellent alternative to traditional face painting. There is no risk of cross contamination. The makeup is cosmetic alcohol based and no applicator actually touches the skin. Stencils used are wiped with fast drying alcohol between applications.
TN SAFE REOPENING PRACTICES FOR CLOSE CONTACT BUSINESSES
Due to the nature of close contact personal services, an abundance of caution should be exercised to mitigate or prevent exposure to COVID-19. Persons who are more vulnerable or at-risk for COVID-19 as identified by the CDC — including those who are over the age of 65 or those who have severe underlying medical conditions — should take extra precaution or refrain from using close contact personal services.
Employee Protection
Screen all artists reporting to work for COVID-19 symptoms with the following questions:

Have you been in close contact with a confirmed case of COVID-19 in the past 14 days? (Note: This does not apply to medical personnel, first responders, or other individuals who encounter COVID-19 as part of their professional or caregiving duties while wearing appropriate PPE.)
Are you experiencing a cough, shortness of breath or sore throat?
Have you had a fever in the last 48 hours?
Have you had new loss of taste or smell?
Have you had vomiting or diarrhea in the last 24 hours?

Temperature screening artists:

Best practice: employers to take temperatures onsite with a no-touch thermometer each day upon arrival at work
Minimum: temperatures can be taken and logged before arrival. Normal temperature should not exceed 100.4 degrees Fahrenheit

Practice recommended social distancing to the greatest extent possible— "Further is safer"
Artists should increase hygiene practices—wash hands more frequently, avoid touching face, practice good respiratory etiquette when coughing or sneezing
Change any protective garments on a regular basis and sanitize reusable garments such as aprons or smocks at least once per day.
All employees should stay home if feeling ill, report any symptoms of illness to supervisor and require notification of COVID-19 positive case in employee's household. Employees who are particularly vulnerable to COVID-19 according to the CDC (e.g., due to age or severe underlying medical conditions) are encouraged to stay home
Direct any employee who exhibits COVID-19 symptoms (i.e., answers yes to any of the screening questions or who is running a fever) to leave the premises immediately and seek medical care and/or COVID-19 testing, per Tennessee Department of Health and CDC guidelines. Employers should maintain the confidentiality of employee health information.
Employers should provide training, educational materials, and reinforcement on proper sanitization, handwashing, cough and sneeze etiquette, use of PPE, and other protective behaviors to their employees on a regular basis
Artists should wear a cloth face covering (not N-95 or medical masks, which should be reserved for healthcare workers) and other personal protection items as recommended by the CDC; if masks become wet or visibly dirty, the mask should be replaced
All artists should wash hands between serving each customer, and more frequently as necessary. If appropriate for the service provided, gloves are recommended and should be discarded after each customer. The use of gloves should not be considered a replacement for frequent handwashing
Consider designated staff to be tasked with maintaining heightened sanitization efforts
Post extensive signage regarding increased cleaning, sanitization, and hygiene practices
Perform regular disinfection of high-touch surface areas (e.g., door handles, counter space, light switches, tools and instruments) at least every two hours and when visibly dirty
Consumer Protection
Do not offer any self-serve food or beverages. Temporarily close water fountains. Encourage guests to provide their own water
Prohibit congregating in break rooms, check-in counters
Customers should wear a cloth face covering while in the premises (not N-95 or medical masks, which should be reserved for healthcare workers) and as recommended by the CDC and executive order of the governor, except for services that require removing face-coverings.
Use other personal protection items as recommended by the CDC

Staff providing services that require customers to remove face coverings should wear both a cloth face covering and a protective face shield

Screen customers for illness upon their entry into the premises:

Best practice:

Temperature checks for every customer. Customers with temperatures above 100.4 degrees Fahrenheit should not be permitted in the premises

Minimum: Question customers regarding COVID-19 symptoms

Have you been in close contact with a confirmed case of COVID-19 in the past 14 days? (Note: This does not apply to medical personnel, first responders, or other individuals who encounter COVID-19 as part of their professional or caregiving duties while wearing appropriate PPE.)
Are you experiencing a cough, shortness of breath, or sore throat?
Have you had a fever in the last 48 hours?
Business Process Adaptation
Limit the number of customers allowed in the premises to allow for appropriate social distancing. Workstations should be at least 6 feet apart, with additional measures taken as necessary to ensure that all people stay 6 feet apart at all times except for the staff providing a service to their client. Physical barriers to be used where necessary
Services are encouraged to be offered by appointment only; no walk-ins if possible
Prohibit use of waiting areas (e.g., could adopt such practices as notifying customers by call or text message) or serenity lounges; limit use of other common areas by multiple people at one time (e.g., elevators, breakrooms, etc.)
Businesses should remove all books, magazines, or any shared material for customers
Ensure thorough workstation and equipment disinfection after each customer (i.e. sanitize all equipment, instruments, capes, smocks, linens, chairs and work area); alternatively, utilize single-use or disposable items
Implement enhanced sanitization of commonly touched surfaces and equipment (i.e., at least every two hours and when visibly dirty), using CDC recommended sanitizers and disinfecting protocols
Discard any single-use tools (e.g., files, buffers, neck strips) immediately after use
Encourage touchless payment methods where possible
Place hand sanitizer stations in shop lobby and bathrooms
Do not allow self-serve products (e.g., "testers"); consider limiting customer contact with retail products before purchase
Daily deep cleaning and sanitization to be completed for high-touch areas (tanning beds, massage tables, salon chairs, etc.)
Use appropriate temperatures for washers and dryers to ensure thorough sanitization of towels, linens, etc.
Open windows and doors where possible to increase ventilation
Do not allow non-customer companions to accompany customer during a service
Do not allow group or communal settings for close contact personal services (e.g., couples' massages, salt rooms, saunas, pools)
Plan for potential COVID-19 cases, and work with local health department officials when needed (e.g., monitor and trace COVID-19 cases, deep clean facilities)
Covered employers and employees should be aware of the provisions of the federal Families First Coronavirus Response Act, which allows for paid sick leave or expanded family and medical leave for specified reasons, such as for self- quarantining or seeking a medical diagnosis for COVID-19 symptoms
All For A Face ~ Transforming ~ Magical

A Proud Member of F.A.C.E.
In 2013, Corinne received the distinguished honor of becoming the only CERTIFIED Face painter in Tennessee. She holds a certification from F.A.C.E., the international organization that tests adherence to high quality standards for the industry. Rest easy knowing that you are hiring a CERTIFIED face painter if you want to insure the best in safety and quality.
certified member #504 2013 - 2020

Face Paint is Colorful, Fancy and Fun!
Here are our Safety Rules to keep it that way!

Face Paint Safety
If your child has

allergies or sensitive skin

, the safest course is not to be painted. If you are not sure, ask for a skin patch test.
If your child is nervous, does not want to be painted, cannot sit still or is too young to follow direction, it is best to wait till they are ready.

If you kept your child home from school because they are ill,

Do Not have them painted!
If your child exhibits signs of POSSIBLE ILLNESS, WE CAN NOT PAINT THEM.
Signs may include but are not limited to Cough, Cold Sores, Conjunctivitis, Impetigo, Influenza, Chicken Pox, Flaking Skin, Running Nose, Broken skin, Known allergies to food or makeup. If questionable the Artist may offer to paint an arm, or refuse service entirely.
This is for your safety as well as others!
While generally safe, no cosmetic is perfectly safe. Rare, severe ALLERGIC REACTIONS usually occur within seconds. If your child complains of itching or is uncomfortable: remove the makeup IMMEDIATELY with soap and water.
Artists make every effort to practice safe protocols.
Participating in Face Painting is at one's own risk.
WE RECOMMEND GOOD SKIN CARE. DO NOT WEAR YOUR FACE PAINT FOR PROLONGED PERIOD OF TIME OR OVERNIGHT.
All For a Face believes in the magic of pretending and the happiness it brings!

We paint children over the age of 2 years old, and

only

if they want to be painted.

Face art is our passion and we want your child to enjoy it too.

Our high quality makeup is cosmetic, water soluble theatrical makeup that washes off easily with soap and water.

It is hypoallergenic and safe for sensitive skin, in most cases.

We come prepared to entertain your guests and be worry-free to you.

We are fully insured.

Your satisfaction is of the utmost importance to us, and we are constantly upgrading our service offerings to keep things fresh, safe and fun for our clients.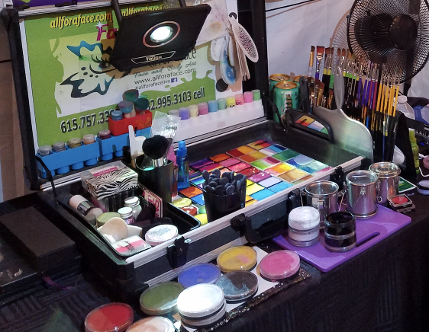 Upscale face painting, temporary airbrush tattoos, and sophisticated glitter art for

~ baby showers
~ family reunions
~ festivals
~ fairs

~ Bar/Bat Mitzvahs
~ proms
~ bridal showers
~ teen events

~ church programs
~ private parties
~ corporate events
~ school events
~ fundraisers
~ grand openings
~ reunions

~ children's parties
~ sports events
~ community events
~ and more
CONTACT INFO
732 995~3103 CELL
615 866~7508 VM
allforaface@gmail.com
Visit our sister site: over 18 recommended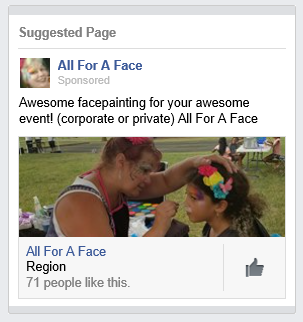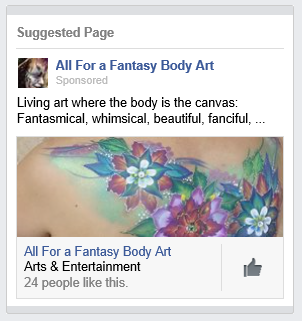 Copyright 2021. All For A Face. All rights reserved. Nashville, TN